What to Expect at Krzyzelewski Chiropractic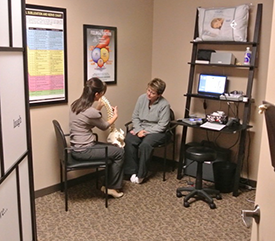 Open Communication
We will always communicate with you as well as possible on matters such as your health, your insurance or other financial questions or any other issues affecting your experience in our office.
Honor and Respect
We honor your health goals and respect your privacy. Doors to the adjusting rooms are left open but if you ever feel uncomfortable or have a sensitive situation to discuss with the doctor, we will be happy to close the door or escort you to a private consultation room.
Quality Care
We will continuously monitor your progress with re-examinations to check your nerve function every 12 visits during your initial care plan and then as needed thereafter.
Little or No Waiting
We know that your time is valuable so we promise we will respect it. We promise to do our best to get you in and out of your appointment quickly. If you need to spend extra time with the doctor for any reason, we will be happy to schedule an appointment at a time when she can give you the attention and care you need.
Health Education
We focus on providing health education to our patients, their families and friends. We will provide you with resources you can trust and share with family and friends.
If interested, we will gladly provide information and answer questions you may have about nutrition, exercise, posture, workplace safety, stress management and of course chiropractic.
Call today! (204) 414-1640