Office Visits at Krzyzelewski Chiropractic
When you visit us, we want you to relax knowing we're here to listen and address your concerns.
Initial Visit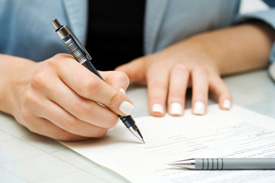 The first thing you can expect when you visit Krzyzelewski Chiropractic is a smile and a friendly greeting from our caring receptionist, Rita. We understand you may be a little apprehensive if this is your very first visit to a chiropractor, so we will take the time to make sure you are comfortable and your visit with us is a pleasant one.
Next, you'll be asked to complete some paperwork so that we can get to know you and your concerns better.
With the paperwork completed, you'll be taken to the examination room, where you'll be shown a short chiropractic introductory video, after which you'll meet Dr. Anna. She will review your health history with you and tell you a bit more about chiropractic.
If she thinks she can help you, she will perform a chiropractic examination which includes:
A thorough posture analysis
Motion palpation
A thermoscan
A surface EMG scan
An HRV scan
plus any other chiropractic examinations that may be be necessary.
With all the information gathered, your first visit will be complete. However, if you're situation is an emergency, you may receive your first adjustment.
Second Visit: Report of Findings
Once again, Rita will greet you and take you back to the examination room. We'll have you watch another brief video to increase your knowledge about how we'll help you through chiropractic care. Then, Dr. Anna will come in and go over what she found during your first visit. She will also make her recommendations for your initial plan of care.
After that, it's up to you to decide if you want to continue and receive your first chiropractic adjustment.
Regular Visits
Your subsequent visits, will be brief. Every 12 visits, we'll run the Insight Subluxation scans on you that we did on your first visit with us. This lets us monitor how your nervous system is functioning. At these times, we'll make any necessary changes to your care plan.
These progress reports will build on top of one another to show your road to recovery.
We're here to answer any questions you might have, so please ASK!
Dr. Anna truly cares about each individual and her goal is to initiate the process of growth, health and well-being through the correction of vertebral subluxations in you and your family.
We'd love to answer your questions or concerns. Call the office today. (204) 414-1640